WELCOME TO THE BARN OF EDUCATION
Handcrafted Educational Toys & Gifts
Helping kids to develop a love for learning and problem solving.
Hello! Welcome to the Barn of Education
Our educational toys are designed and handcrafted in our barns in Arizona. Our goals are to inspire confidence and a love for learning for kids of all ages. Don't rely on tablets and hours of mind numbing video games! Instill confidence in your kids as they work with their hands and exercise their fine motor skills and learn problem-solving skills.
We believe in Montessori education and our products are meant for ALL educators, parents, children and anyone who believes in utilizing the "loose parts". Through our products, children will explore their ingenuity, creativity and their imagination. Learning could be and should be fun and involve children's natural interests and activities.
Frustrated with the tiny parts and pieces that get lost? Don't worry if you loose another puzzle piece or toy part! We can make replacements for lost items.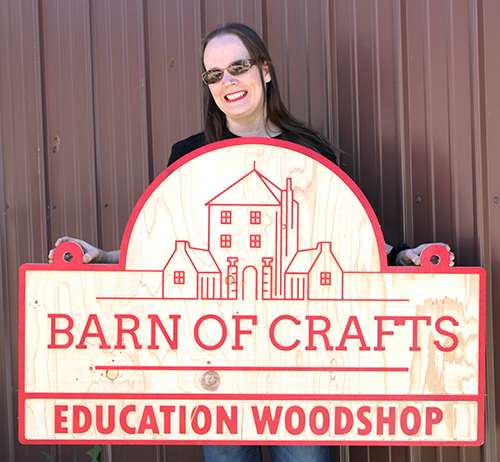 A few words from Marci – Barn of Crafts Owner
"I own a preschool and I was seeing kids that were not engaged in learning or even using their imagination any more. If it was not on a tablet, forget it.
Because of this, I want to make toys that the kids will stay engaged with longer and learn at the same time. A lot of Barn of Crafts toys are interchangeable. When a child gets bored, you grab the activity top and they see how mixing the pieces together look.
I have seen how the kids are staying engaged longer and learning more with Barn of Crafts toys. Even the teachers and parents are more engaged with their kids.
I am always looking for new ideas and activities for parents and teachers to do with their kids.
We adopted one of our boys and he has a hard time learning like other kids. So I was always trying new ways to get him to learn. I took what I did with my son and wanted to help other kids who struggled with learning or just interaction with people.
Lastly, the last frustration as a teacher and mom were the pieces missing and having to throw the whole unit away as it does not work without all the pieces. So I wanted to make it possible that when you miss any pieces of the toy you can reorder just that one piece. Just imagine the money you save not tossing the toy away!"
-Marci, Barn of Crafts
Teachers' Top Picks
Tested by busy hands, teacher approved.